Musician Lionel Richie is celebrating the launch of his home collection with a series of pop-up dinners in various cities. The first dinner was held Jan. 6 at Richie's Beverly Hills estate and featured the new tabletop and giftware collection made by Impulse! International.
Among the guests were Richie's longtime girlfriend Lisa Parigi, daughter Nicole Richie and spouse Joel Madden, Kevin Spacey, Benji Madden, and business executives Elaine Wynn, co-founder of Mirage Resorts and Wynn Resorts, and Bruce Eskowitz, chief operating officer of Red Light Management.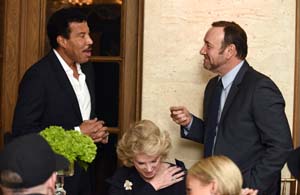 Lionel Richie and Kevin Spacey in Beverly Hills
Richie will officially launch the collection at a dinner in New York this month, followed by an event in Las Vegas in conjunction with his upcoming All the Hits residency there. The collection will also be featured Jan. 16 at Cayman Cookout's event, Seven to Savour: An Evening with Eric Ripert & the Chefs of Cayman Cookout.
In describing his approach to design and introducing his first home collection, Richie said, "I'm in the business of songwriting. Songwriting is a thread; there's a big difference between a fad and forever. I'm not trying to design a fad. I'm trying to design a timeless collection that will be around every year for rest of your life."
The Lionel Richie Home Collection combines bold patterns with clean lines, featuring a range of bone china dinnerware in six different motifs—Riviera, Regal, Geneva, Versailles, London and Milano—designed to be mixed and matched. Weighted crystal barware in four ornate styles including the Manhattan, Empire, Rockefeller and Park Avenue complement the dinnerware, along with an assortment of decorative glass vessels in varied sizing such as the Firenze vase, the Jardin Sphere and the Sunset votive. The collection will also include leather accessories such as the Moscow Ice Bucket and Sorrento Tray, as well as a selection of fragrant candles.
Following the introductions this month, Richie will unveil LR Studio, targeting the hospitality trade with fully customizable dinnerware collections for restaurants and hotels. This spring, Lionel will also launch LR Loft, which will feature colorful, pop-culture driven capsule collections geared towards a younger demographic.