How do you spell success?
In tabletop, it's M-O-N-O-G-R-A-M, a specialization business that is thriving at a time when consumers are favoring personalized, customized giftware.
Single-initial products such as mugs and trinket dishes are not new, but they are currently getting a lot of exposure at retail—Anthropologie has two separate displays, of mugs and glassware, at one of its Long Island stores, for example, while Macy's Herald Square has a full display on an eighth floor niche that is reserved for trends.
"Monogramming and personalization on mugs and dinnerware have been popular for a while now and most department stores have a program," said Ken Cook, vice-president of business development for Gibson, which is experiencing success with monogram programs at Meijer, Bon-Ton and Bed Bath & Beyond. However, monogramming is not a trend, according to Gibson. "Trends come and influence us then wane and can go away; monogramming has been around forever it seems and continues to flourish," said Gibson's Vice-President of Creative Laurie Gates. "The essence of monogramming is that it takes the ordinary and makes it personal and uniquely ours. It is whimsically chic and adds a bit of character."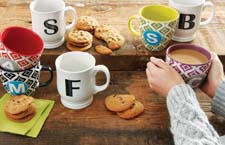 Monogrammed mugs are a longstanding part of Gibson's dinnerware business. gibsonusa.com
Lenox recently launched a successful exclusive program at Bed, Bath & Beyond of Initially Mine mugs featuring beautiful carved initials on large white porcelain mugs. "These mugs resonate with brides who are excited about their new future initial for their home or with gift givers during the holiday season looking for that perfect stocking stuffer, secret santa or teacher's gift," said Beth Baer, senior director of marketing.
Initialed products make great any-occasion gifts, said Rosanna Bowles, president and art director of Rosanna Inc., whose new porcelain and gold character trays are best sellers in its fall/winter 2015 collection. "Receiving an initial gift makes people feel special. It lets them celebrate who they are. Some people buy multiples to spell out a word or someone's monogram." Abbiamo Tutto has just had a major resurgence in the program that it offers, said President Donna Territo, who predicted it will be even stronger in the spring/summer—wedding season.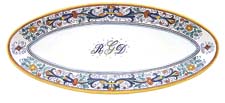 Abbiamo Tutto's monogramming program has experienced a resurgence. e-abbiamotutto.com
Pickard's well-known monogramming program has gone beyond the precious metal (gold and platinum) or precious metal with color bands options found in its Signature collection. It is now monogramming any Pickard pattern; the Colorsheen and Georgian collections have been particularly popular, according to Andy Morgan, president.
Monogramming has evolved beyond the simple initial or set of initials to more creative, expressive programs across a wider range of materials and product categories and an investment, on the manufacturing end, in engraving machinery to do the work on-site.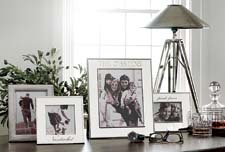 Engraved frames from Reed & Barton. reedandbarton.com
"Monogramming is certainly one of the biggest requests, but people are getting very creative," said Kim Madden, director of the Reed & Barton brand. "We see everything from special sentiments to increasing orders for corporate gifting." The company's two biggest categories are frames and baby. "Sterling frames continue to be the quintessential wedding gift so we see the traditional bride and groom's name and wedding date," Madden said. Monogramming and date of birth are most popular in baby gifts.
Godinger recently purchased state-of-the-art machinery and technology for an in-house personalization program. The company's Philip Whitney frame division has always offered product to mark special occasions, but now also offers several occasional expressions pre-printed on appropriate items. They also market frames and boxes with whimsical comments.
"We see the business from a bigger perspective [than just monogramming]," said Steven Block, executive vice president. "By offering the customer such a wide latitude of flexibility we have not only enhanced their perspective in dealing with us but we have saved them costs by not incurring further fees, including double freight in having to send product to another vendor to do the engraving."
Vendors have learned from experience how to overcome the pitfalls and hurdles of a specialized business.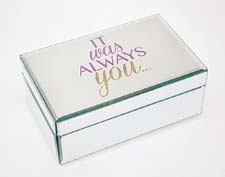 Whimsical sayings on giftable items is part of Godinger's business. godinger.com
"It requires constant attention to detail," Abbiamo Tutto's Territo said. "Our pieces are painted by hand in Italy, so there is always an element of error. Therefore we triple-check each order before sending it to Italy and ask the team in Italy to do the same."
The personalization business requires a lot of planning and is a constant learning curve, according to Block. "Obviously single-letter trends may stay fairly consistent but inventory depth planning is very difficult to forecast," he said. "Also the item choices to build ongoing sales must allow for seasonal selling periods and have more finite selling windows. This is ... true when dealing with expressions that are trendy today but whose shelf life may be more transient."
When Rosanna premiered its first initial products, "we didn't know exactly which letters would be the most popular, so it was difficult to manage," Bowles said. "Over time, it's gotten easier. Now we know which letters sell the best and can predict inventory flows. We encourage specialty stores to buy a minimum of four of each of the popular letters to have good back stock."
Planning and attention to detail have thus made the monogramming business a-okay.